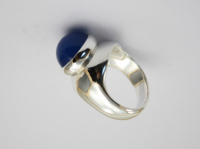 Size : 55 (Fr), O (UK), 7 (USA)
Silver 925/1000 : 15 g
Reference : BAGARDE55001
price : 125,00 €
This ring is entirely made by hand in our workshops.

We wanted to give to this ring a shape that goes with the round agate, and at the same time a height that would enhance the presence of this stone.

Therefore, it is very much visible, but the shape and the round harmony keeps some discretion to it.