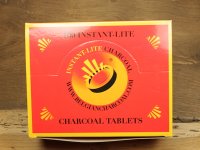 Sold in ten rolls of ten charcoals,
100 charcoals per box.
Reference : CHARBINSBOI
price : 20,00 €
"Instantlite" charcoal brand is a very good quality of cjarcoal made in Belgium. It is clean and good burning charcoal. They are easy-lighting and long-lasting.

To light one of these charcoals, hold a flame under one side of the charcoal for a few seconds, then leave the charcoal to light itself for two minutes. CAUTION - only place charcoal on fire-resistant material. Avoid glass, which could break.

It will easilly burn for more than thirty minutes, and will be perfect for a generous incense offering.

KEEP IN A DRY PLACE.