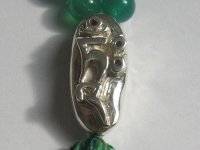 Stones : 6 mm in diameter
Total length : 67 cm
Net weight of silver : 11,9 grams
Strung on a braid of green filaments
Reference : OTAM06001
Agate has, generally speaking,
fortifying and invigorating properties.

Facilitating discernment,
it aids in improving self-esteem.

Green agate, very feminine,
re-balances one's love life
and brings a sense of well-being.

These stones have been tinted.

Especially dedicated to Green Tara, this mala is decorated with an ornate TAM seed syllable, entirely hand-made of Sterling Silver.