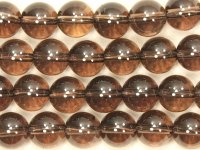 Diameter of stones : 8 mm
Total Length : 86 cm
Strung on a braid of black and brown filaments
Reference : CQUFU08001
Smoky Quartz is a great stone for the life force. It is very intersting for both spiritual, body and emotional levels.

It helps for good health, for joining heaven and earth and good connexion between body and mind.

This smoky quartz is accompanied by a 3 eyes dzi.

These stones are natural.