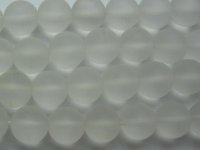 Stones: 7 mm in diameter
Total length: 77 cm
Strung on a braid of white filaments
Reference : CQGI07002
Quartz is known to be a strong and pure receptor, amplifier and transmitter of energy.

The quartz used in this mala has been frosted to reduce the brilliance of the crystal, thus it can be very beneficial for those who are hypersensitive.

The rough texture of the surface of the beads is a constant reminder of it's presensce by the feeling one gets from touching them.

This mala is particularly recommended during times of agitation or emotionalism which needs pacification.

These stones are natural.