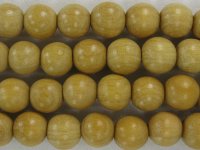 Beads : 7 mm in diameter
Total length : 78 cm
Strung on a braid of yellow filaments.
Reference : CBBU07002
The box tree, an evergreen bush, can age more than 500 years, and is therefore a symbol of longevity, of eternity.

In various traditions, it is connected to the divine world and to that of the deceased. For the Gallic people, box tree had a protective power.

Its wood, very hard and dense, inspires firmness and perseverance.

With time, the contact of fingers will finely polish the beads of this mala and produce a sheen that will add softness.