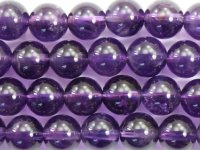 Diameter of stones : 8 mm
Total length : 87 cm
Strung on a braid of blue and violet filaments.
Reference : CAME08004
Quartz is known to be a strong and pure receptor,
amplifier and transmitter of energy.

With regard to amethyst,
it purifies tense atmospheres and fills them with calming vibrations.
The sight of it can calm anger and anxiety.
This is a stone of happiness, depth, wealth and balance.

By its colour, a mixture of blood and sky,
it evokes for Buddhists and Christians,
the joining of wisdom and compassion.

It is believed to possess many qualities.

The stones of this mala have been selected for a superior quality of color and cristal.

These stones are natural.