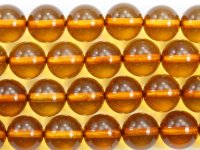 Diameter of stones: 8 mm
Total length: 87 cm
Stung on a braid of white and yellow filaments
Reference : CAMB08002
Amber has a long history with man; it was first used as long ago as the Bronze Age.

It has been used in many preparations: to re-enforce the blood, for pulmonary and renal problems, and for many other health problems, such as the growth of teeth.

It can also be burned as incense and its smoke is also attributed to have many beneficial properties.

Its electrostatic properties allow it to absorb excess static electricity in the environment as well as that of its wearer. In addition, wearing a necklace of amber is said to protect against neck problems.

In addition to the serenity connected to it, amber, with its rich colour and luminosity brings a nobleness, in simplicity.

These stones are natural. The beads have been carefully chosen and some contain very small faults, which is very rare in this material.