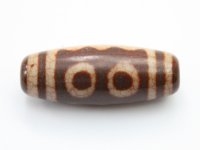 Length : 3,4 cm
Diameter (at the center) : 1,3 cm
Reference : DZIR001
Five-eyed Dzis are said to attract blessings, success, wealth and every auspicious sign to his owner. They are considered as magical and are very sought after.
Traditionally they are connected to Jambhala (Vaisravana in Sanskrit), a Buddhist deity linked with prosperity as an awakening factor.
The idea of prosperity as an awakening factor is explained by the fact that when one has all that is necessary for living, the mind is freed to concentrate fully on spiritual practice.

This Dzi is recent, but it has been manufactured according to the rituals that have been transmitted in family circles for generations, so it has all the qualities a Dzi should have.

You can buy this Dzi, and make your own necklace, or you can ask us to make it into a necklace for you, with or without other stones.