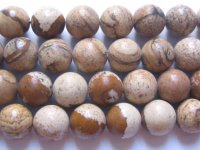 Stones: 7 mm in diameter
Total length: 79 cm
Strung on a braid of yellow and green filaments.
Reference : CJPA07002
Jasper is strongly connected to the Earth,
is settling and diminishes the influence of emotions.

Landscape Jasper evokes the desert sands
and is connected to those humble qualities.

It re-enforces the tendencies of sobriety, simplicity
and stimulates creativity and the capacity for visualisation.

These stones are natural.