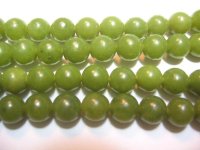 Stones: 6 mm in diameter
Total length: 69 cm
Strung on a braid of green and yellow filaments
Pair of Jade counters
Reference : CJAD06001
Jade is a stone of justice and honesty,
connected to power.
It was long used to carve figurines in divine cults.

Nephrite Jade, of which this mala is made,
is, as its name indicates, associated with
the healing of nephritic illnesses and incontinence.
(Nephros in Greek means "kidney").

Since the kidney is the seat of fear,
Nephrite Jade is strongly indicated
for calming irrational fears and anxiety.

These stones are natural.