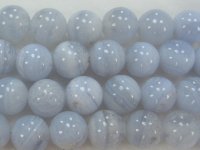 Diameter of stones : 7 mm
Total length : 77 cm
Strung on a braid of blue and white filaments
Reference : CBLL07001
Agate, in general, is a stone which favourizes the feeling of being anchored and thus has fortifying and revigorating virtues.

By encouraging discernment, it helps to increase one's self-esteem.

Most particularly, of all the stones relating to the throat chakra, blue lace agate is the most closely connected.
The blockage of expression, which can drag down the mind and spirit, manifests by the tightening of this chakra.

The anchoring power of this stone inspires confidence. When one comes into contact with this stone, when one looks at it, what comes to mind is softness, fluidity, lightness and a certain freshness. It is the energy of its softness which unblocks the throat.

It is, therefore, a precious aid in lithotherapy for facilitating the opening of words and expression, and reestablishes an interior eqilibrium. It is particularly indicated for the use of words, such as recitations and the chanting of mantras.

Blue Lace Agate is becoming more and more rare and, therefore, more expensive.
Although our policy is to always use stones of the highest quality, in this case we have had to compromise and use stones of a slightly lesser quality in order to offer you a reasonable price.